5 Best Bollywood Designer Sarees Draped By Sridevi
Sridevi is one of the gems of Bollywood and favourite of our parents. Isn't it? If you don't believe, just ask your parents about the diva and definitely, they will come with a story when they got a chance to meet her or managed to get a black ticket to watch her movie. The famous Bollywood Jodis – Sridevi & Anil Kapoor and Sridevi & Jeetendra have given many Box-office hit movies that are even enjoyed nowadays.
The diva is not only famous for her movies and acting but for her classic choice of Bollywood sarees. Be it traditional or western, Sridevi had been spotted with a frivolous collection of dresses. Take a dig at her best Bollywood designer sarees and inspire your fashionista appearance with her pro looks.
The Golden & Peach Tinge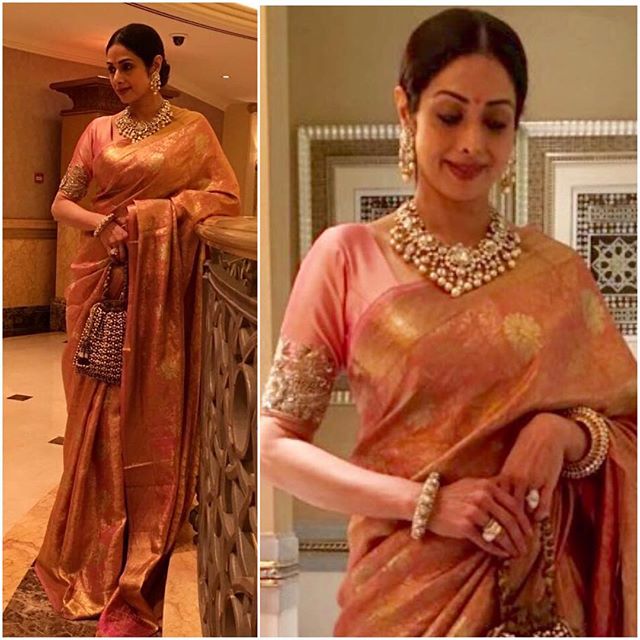 This Banarasi saree with golden and peach tinge is the perfect soiree for any wedding or special kind of event. Be it high collar party or artistic platforms, this type of sarees showcases the ultimate feminine and strong character of a lady. Her precious pearl necklace and earrings set was perfectly complementing her whole outfit. She adorned her appearance with a beautiful beaded traditional potli. The train of the pallu is equally flattering as her simple makeups. So, if you want to hunt your next saree for the event you can invest in the look-alike Banarasi sarees online.
Floral Beauty
The floral blouse and the net saree are the exact charms of the complete appearance. She draped it beautifully and finished off her look by wearing a pair of lavish stud earrings. Not only floral patterns but the blouse have a broad embellished work as well to boast.
It is quite simple to understand that she was a lady who always takes a distance from fusses, even it is about fashion. And this is why she chose to finish off her look with upright and tight bun hairstyle.
Autumn Fade
The clean white saree with Autumn leaves' print was the awesome choice of Sridevi's. This veteran actress knew all the knick-knacks to present herself in a captivating manner regardless her age.
With silver border and lightweight fabric selection, she ruled the complete day with sleeveless sassy blouse. Unlike Banarasi sarees online, this saree was quite easy to handle and also a great addition during summer times. And her all-time favourite top bun is complementing her mysterious charm.
Metallic Peach
Look at her and you will never find a second to turn your eyes away. Am I right? It is not only Bollywood's loss but a grave loss from our side as well. The generous actress was in love to wear latest sarees and keep updated her new fashion line as well.
In this metallic peach saree appearance, she ruled the function by donning it with brilliant traditional blouse. The brocade work and tight traditional royal choker are wonderfully complementing the beauty of the actress. Another thing that is icing up the whole situation is her perfect dark makeup for eyes and matching bindi.
Pastel Turquoise Sheer
Simple and still the queen of beauty in the fashion world! Sridevi always chooses to stay simple yet with her exquisite choice of sarees like this one with pastel turquoise sheer or net saree. One of the best Bollywood sarees, this saree comprises a long sleeved and border worked blouse which has been donned with earrings only. The just look is fascinating and easy to be followed by her fans as well. Isn't it, girls?